High Park Vertis - LOCATION
Vertis North is located well with the sprawling 250 hectares Quezon City – Central Business District, also called Triangle Park, which is strategically located in the central part of Metro Manila. This triangle of prime development covers properties within the Veterans Memorial and the East and North area in Quezon City. The planned ground framework is for this development to become a prototype of mixed-use development projected to become a role model for future cutting-edge development not only within the local confines of Metro Manila but internationally as well.
The Quezon City Triangle Park, in terms of easy access to other parts of the metropolis, is judged as one of the best strategically located expanse of real estate property; point 1 is the availability of at least 3 MRT (mass transit) stations with its vicinity, and point 2 is its frontage on EDSA, the longest thoroughfare in Metro Manila significantly summarize this advantage.
Triangle Park as a prime transport convergence point is also regarded auspicious as retail and wholesale businesses setting by budding modern entrepreneurs. Another addition to their collection of conspicuous spaces auguring well for companies' and people's evolution into the new economy of the digital marketplace. Triangle Park is a packaged and integrated business and lifestyle area extremely convenient for the presence of established and reputable hospitals and medical services facilities within the proximities of the area.
Medical and health emergencies can be immediately assisted in the nearby hospitals such as FEU Hospital, Veterans Hospital, Cardinal Santos Memorial Medical Center and St. Luke's Medical Center to name a few and for more serious traumas there is the Philippine Heart Center.  
Students can have choices of reputable and lofty colleges and universities within a few minutes ride from Vertis North. Immaculate Conception Academy and Sisters of Mount Carmel School, University of the Philippines – Diliman, St. Paul University, Ateneo de Manila University, and Xavier School are just a few of these colleges and universities.
Vertis North in the present state of massive urbanization and industrialization of Metropolitan Manila is seen by discerning eyes as one of top leisure areas around Metro Manila, an exceptionally idyllic destination being adjacent to two large parks; the Quezon Memorial Circle and the Ninoy Aquino Parks and Wildlife. Vertis North was designed and planned to nurture and not deviate from this existing green neighborhood. It will be an environmentally compliant business district from the start and all through its existence; by safeguarding reduction of carbon-emitting transport modes through extensive pedestrianization and supporting green architecture in all its present and future constructions as planned.
The planned extensive pedestrianization of Triangle Park will be implemented by a well-organized transit loop traversing the entire district, with park-lined thoroughfares, that promotes easy access to interior properties, which in turn will encourage better intercommunity contact, which will result into the substantiation of the increase of land values throughout the business district community.
Ayala Land Inc.'s vision of the potentials Triangle Park (Quezon City Central Business District) has in store for the bold and the daring, has not gone to waste, a number of reputed international institutions noticed and agree on the projected large economic prospects for the area. Today it has remained as one of the few residual lots that are strategically located; within easy accessibility from all major routes, and set for continuing cutting-edge progress aimed at increasing asset values, all the while flaunting its showcase of a model modern environment.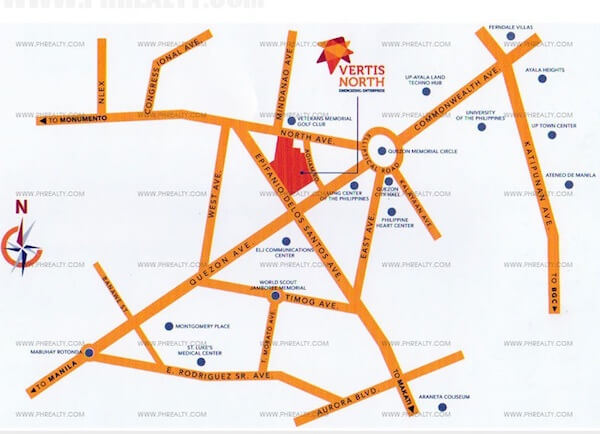 High Park Vertis in the north located in the Quezon City is the center of the north. The unique location adds on to the skillful construction of the tower. It is extremely convenient for the residents of High Park Vertis to entertain all the resources of the city. Vertis North is constructed on a 45 hectares expansion of north triangle that includes the Trinoma. This is the location that bears strategic importance as it is bound by several roads. It stands to bear the connectivity of EDSA, North Avenue as well as Agham Road. One will never face any traveling issues as the linking roads are convenient for all kinds of modes of transportation.
This can be easily called a commercial city owing to its location and connectivity that has been collectively brought up by Authority of National Housing as well as Alveo Land.
The prime location of the beautiful High Park Vertis has to offer to its residents the access to classy shopping malls, educational organizations, Financial Institutions as well as Commercial centers. Thus, it is committed to impart a convenient lifestyle to you along with your family.
The project is just a tiny walk from the city which makes all the day to day life necessary requirements closer than ever. You can enjoy the facilities as well as the luxury of the entertaining sections well within the range of even less that a kilometer leading to saving a lot of your precious time. Being close to the commercial section of the city one can assure to stay close to their workplaces deciding to invest in the Property.